Since being up to the latest fashion trend is a big deal, every single diva out there has an important task- and that is to always look their best fashionable self-24/7. Moreover, women don't simply stop wearing a cute dress. They go all out. Which means they lay out their accessories and make full use of each one. Specifically the earrings.
Now the earrings are an important part of one's natural appeal. They complement the face well and they make sure to bring out the glow of facial beauty. However, it's important to know which ones to wear on specific occasions.
So here are a few tips that can help you decorate your ears in some of the most ideal ways possible:
Ear Jacket
Ear jackets are one of the most popularearrings trending right now. And if you haven't gotten a few pairs of them yourself, you are definitely missing out on some of the ways you can glam your ears. Ear jackets can come in a variety of styles. So if you want to give out an elegant and sophisticated appeal from your appearance, try wearing an ear jacket that is embedded withpearls. The pearls are known for their timeless attraction for generations now so you can't go wrong with trying out this classy look with an elegant outfit to go along with it.
Ear jackets can be worn in any style. However, pearl accent ear jackets work well with other pieces of jewelry too. So if you want more emphasis on your look, you can always add in a pearl necklace or a pearl ring to add a touch of that extra desirable appeal.
Ear Chains
If you are a fashion diva and are dead set on looking for ways to distinguish your style, trust us when we say that ear chains are the perfect earpiece that can help you out. Ear chains are a fabulous adornment with a standout-ish appearance. It doesn't matter if the chain is silver or golden- the glamorous impact it delivers when it is worn is always on point.
Since double ear chains can come in various styles, you can choose which ones to wear depending on the occasion or simply on whatever you feel like wearing. If you are going for a simple yet chic look, try out a chain with less embellishments. Just one statement accent is needed for that earpiece to stand out and not look like you are overdoing your look.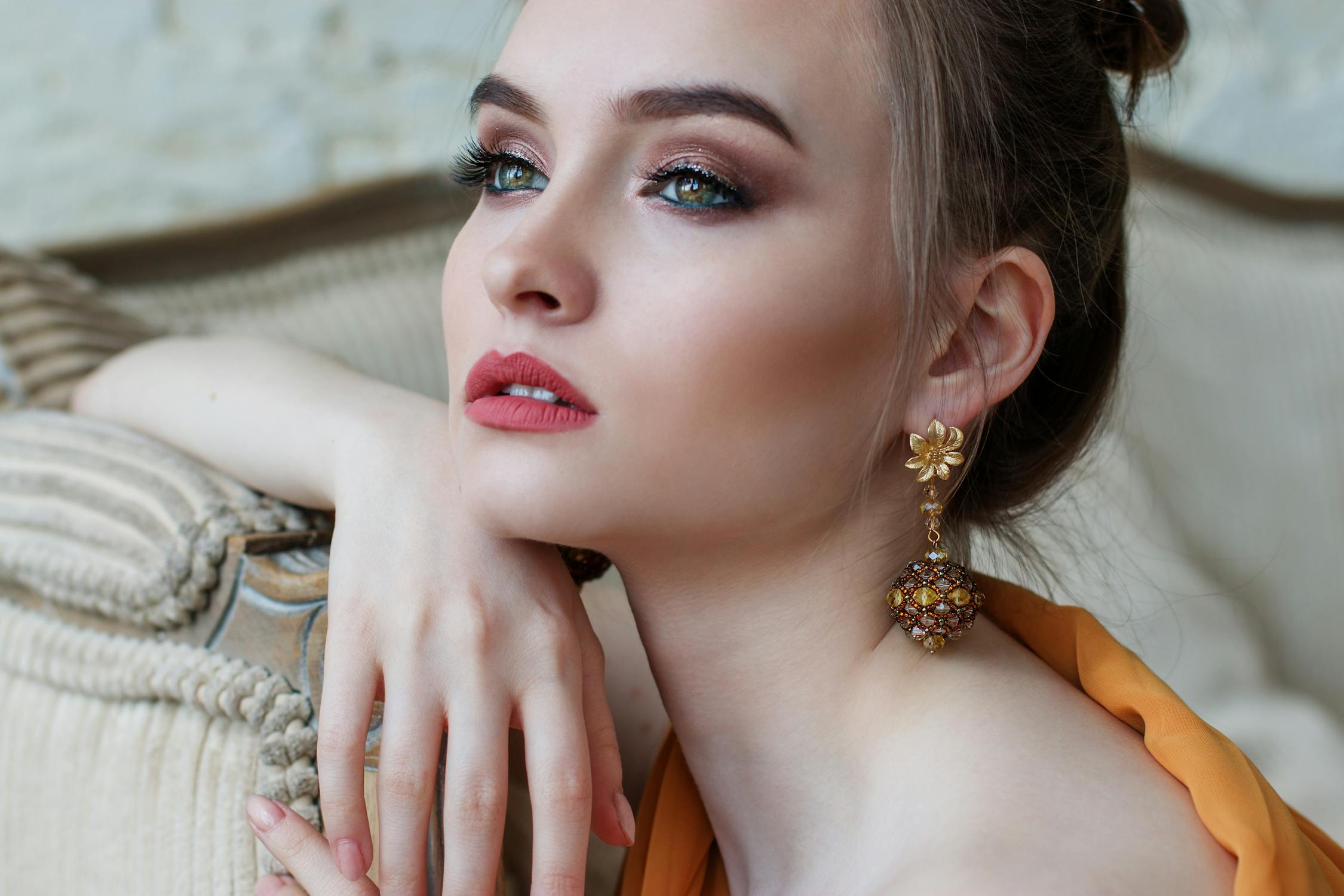 If the occasion calls for something dramatic, you can go all out with many accents in the double chain earpiece, or just a single piece that would really stand out to portray your sense of style as fierce and extravagant. If you simply like the style and want to wear it for everyday purpose, a simple double chain would be enough. You can walk around while looking stylish while also having the luxury of wearing an earpiece that isn't heavy nor is it too dull either.
Studs
Studs are one of the most simple and small earpieces amongst many other of its counterparts. However, you shouldn't underestimate these small pieces too much. When worn the right way, these pieces can be more impactful than you think.
One of the most interesting things about studs that sets it apart from most high-class jewelry pieces is that you can wear mesh them up with multiple types of earrings and they will never look out of place. All you need to really think about is how many pieces you are going to add-which depends on the occasion- and which earrings will work the best when combined together.
If you want to keep cute and chic then we suggest that you can both try one large statement earring and decorate it with small studs to emphasis the beauty of the whole look. Or if you're daring, try a bold look with multiple statement pieces such a drop earring or ear chain or a fancy ear jacket that is mashed up together with small fancy studs on the helix.
Ear Cuffs
Ear cuffs had been so popular around the 50s and the 60s. Back in those days, Marilyn Monroe was rocking the ear cuff look which is what really boosted the ear cuff popularity. However, the hype did die down after a while. But now it's finally back and they are better than ever- in both style and massive extravagant appeal.
Ear cuffs can be worn on any occasion- whether if you want to go out to the mall or have a night out with friends- you will find that there are many ways you can make your outfit appealing with just wearing an ear cuff. Another great thing about ear cuffs is that you can still wear them even when your ears aren't pierced. All you need to do is place them over your ear and voila! That is what makes it the best alternative for women who don't wish to pierce their skin.
Conclusion
There are many designs you can go with when it comes to ear cuffs. You can go for a tribal ear cuff that has a boho-chic vibe which you can rock at any beach party. You can go for a feather ear cuff when you want a unique look to your overall appeal. Ear cuffs are usually worn when you want to make a big impression of your appearance. Since ear cuffs cover up most of your ear, you can go all out with making your ear cuffs look extravagant. And it doesn't matter if you think your setup isn't good enough because once that ear cuff is on, all eyes will be on you.